A FREE summer camp for the North Fairmount community.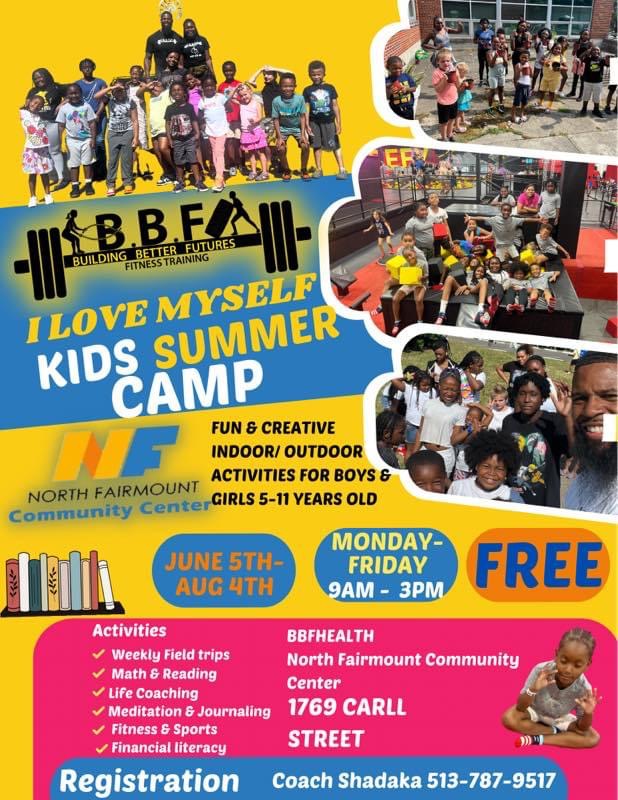 Camp participants will meet on Monday through Friday at the Carll Street Family Center from 9:00 AM to 3:00 PM.
🌞 Welcome to "I Love Myself Summer Camp" – where young minds flourish and dreams take flight! 🌞
At "I Love Myself Summer Camp," we believe in providing kids with an experience that nourishes both their bodies and minds. Our campers enjoy delicious and nutritious snacks and lunch daily, ensuring they stay fueled for a summer of exciting adventures.
Academic growth is a top priority at our camp. We tailor weekly math tests to each child's age and grade level, reinforcing foundational skills and building a strong mathematical foundation. But that's not all! We also indulge their imagination through engaging book reports and introspective writing exercises, using journals as their creative canvas to enhance their reading and writing abilities. And with regular feedback, we are dedicated to supporting their academic and personal development every step of the way.
Starting in 2023, "I Love Myself" Summer Camp takes it a step further by incorporating financial literacy lessons. We empower our children to handle money responsibly, ensuring they have the tools they need to make wise financial decisions as they grow.
But we don't stop there! We believe in nurturing both the body and the spirit. Our campers actively participate in daily boxing instruction, where they not only learn valuable skills but also foster discipline and self-confidence. They take immense pride in showcasing their newfound boxing prowess to their parents and families at our end-of-summer celebration, earning certificates that commemorate their remarkable achievements.
"I Love Myself Summer Camp" is a collaboration between NFCC and Building Better Futures, united in our dedication to preparing children for successful adulthood and breaking the cycle of generational poverty. With love, care, and encouragement, we're excited to create an unforgettable summer experience that ignites a passion for learning and self-discovery in each and every child. Join us on this transformative journey and let's create lasting memories together! 🌈🌟
---